Chef Kyle Connaughton
Owner Chef of Single Thread
SingleThread is a restaurant, inn, and farm built on the ethos of Japanese omotenashi: the spirit of selfless hospitality which Kyle Connaughton built with his wife Katine in 2016.
At age 9, he had a sushi dinner that it crystalized the course of his professionallife. During high school he apprenticed at one of the oldest Japanese restaurants in Southern California and later attended the Southern California School of Culinary Arts, going on to work at Spago, Ritz-Carlton, AOC, Lucques, and Campanile—moonlighting at the latter two Los Angeles restaurants while teaching at his alma mater.
Furthering his own education, Connaughton enrolled at the California Sushi Academy and later received private instruction from Master Sushi Chef Andy Matsuda at the Sushi Chef Institute. Connaughton worked closely with Matsuda and eventually became chef de cuisine and department chair for the Institute's fine-dining restaurant.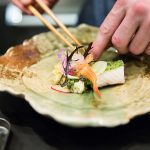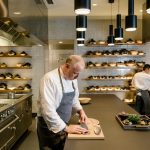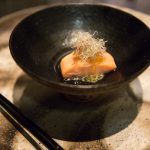 Chef Fabiola Lairet
Fabiola Lairet, a Venezuelan civil engineer who, together with her husband and business partner Ricardo, arrived in Barcelona 14 years ago. Here they developed their passion and love of Japanese cuisine through a number of courses at the Bellart school. The love was so deep that they decided to pack their bags and go to California to train at the Sushi Chef Institute. From there, they managed to get work experience in Japan which allowed them to earn national certificates as Sushi Chefs. Fabiola is one of the few women to have achieved this.
Returning to the Catalan capital, Fabiola and Ricardo opened their successful Monster Sushi and then, just a year ago (October 2016), Robata Sushi & Grill. With an enviable location on the corner of carrer Enric Granados and carrer Mallorca, and seating for more than 150 people is where Fabiola captures version 2.0 of their vision of Japanese fusion food, non-stop from 1:30pm to midnight, seven days a week.
– El National Cat. (https://www.elnacional.cat)
ROBATA
ENRIC GRANADOS 55, ARCELONA, SPAIN 08008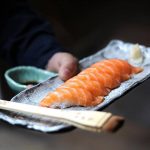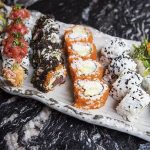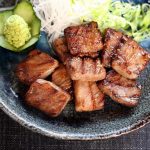 Chef Engin Onural
Owner Chef of Sandfish By Engin Onural
The chef/owner of the Venue Sushi Bar in Palm Desert, Chef Engin Onural recently opened Sandfish by Engin Onural in Palm Springs which showcases the chef's authentic sushi techniques with the twist his desert fans love to indulge in at his Palm Desert restaurant.
Born in Buffalo, NY and raised in Ankara, Turkey, Engin Onural is not what you expect for a master of Japanese cuisine. But a quick study of his cutting-edge sushi rolls and exotic cocktails prove that both the culinary creations and their creator are one of a kind.
Engin was only ten years old when he decided to become a chef, a departure from his parents who are both engineers. From there, he earned a B.S. in Business Information Management from Bilkent University in Ankara and then moved to Los Angeles where he completed his culinary training at the Sushi Chef Institute and became a certified sake sommelier.
SANDFISH
1556 NORTH PALM CANYON DRIVE, PALM SPRINGS, CA 92262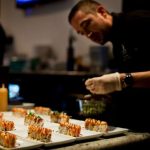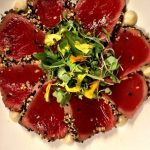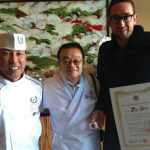 Chef Rakan Aloraifi
After graduating with a bachelor in Marketing in 2013, Rakan moved to LA to complete his master degree. When the first semester ended, he made the decision to follow his passion and joined SCI to get his culinary certificate. After graduating he started his culinary career by starting at the bottom as a kitchen helper.
Rakan moved back to Riyadh to work in Japanese and Chinese fine dining restaurants, he had the opportunity to participate in a well-known TV show, Top Chef ME Season 2 in 2017. That experience gave Rakan the confidence he needed and he landed another job as a MC in a well-known cooking show in UAE. The show was very successful and he was offered his own segment on Morning Saudi. Rakan started to participate in culinary competitions local and international. He won many prizes from bronze to gold. His career shifted to another level when he started working at the Four Seasons Hotel in Dec 2017. He was named Best Saudi Chef 2018 by the Saudi Tourism Excellence Awards. In 2019 he was promoted to Sous Chef, but now he joined a company to become the head chef of the first contemporary Saudi cuisine restaurant.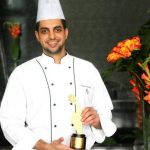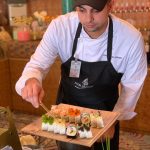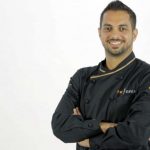 Chef David Bouhadana
Owner Chef of Sushi by Bou
Chef David Bouhadana, the chef/co-owner of the Sushi by Bou, a Sushi Restaurant that offers a high end Omakase experience to the people in an intimate and speakeasy environment.
Bouhadana has racked up exceptional culinary mileage, including considerable success in a city with the most competitive food culture in the world. At 19, he was head chef at a successful sushi restaurant in Florida, where he grew up. At 21, he went to Japan and studied for three years. He then went to New York, where he became head chef at a new restaurant, Sushi IO. At 26, he was a partner at Sushi Dojo. He decided to risk everything and launched a wellpublicized fight with the New York City Health Department. Bouhadana, who at the time had failed a number of inspections after being caught preparing sushi without wearing gloves, refused to comply with the city's strict requirement in this regard, which hundreds of other more well-connected and powerful chefs had learned to accept. Since then, he has managed to open 9 restaurants of his own, to attract raves from leading food magazines and to be included in the Zagat guide's list of the 30 most promising young chefs in the United States.
SUSHI BY BOU
132 W 47TH ST, NEW YORK, NY 10036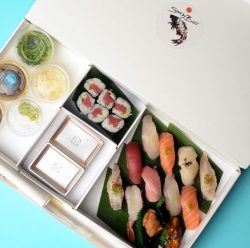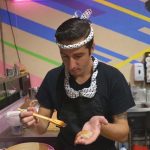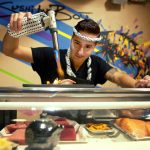 Chef Javier Garcia Steinkopf
Owner Chef of Noa Sushi & Robata
Graduated: High school IDEA Valencia Venezuela, Santa fe College Gainesville Fl, Sushi Chef Institute Torrance CA, and now the Executive Chef and Owner of NOA & Sushi and Robata Barranquilla Colombia .
Chef Javier is a Venezuelan chef with 9 years of experience as a sushi chef, Japanese food and culture lover. Influenced by this gastronomy I become a chef, to specialize my knowledge I went to the SUSHI CHEF INSTITUTE in Torrance, CA. He has a high professional trajectory of more than 9 years working in recognized restaurants. With his determination, creativity and talent that has come to delight the most demanding palates . His greatest satisfaction is to provide each person an unforgettable experience by tasting his dishes. He loves to mix the traditional Japanese food with it's culture.
NOA SUSHI & ROBATA
CRA. 52 #76 – 208 , BARRANQUILLA , ATLANTICO,COLOMBIA